Blendspiration
The blend, the story, and label are by Ken Byron. It is loosely based on a fictional blend called "The Sultan's Shadow."
"Sultan's Shadow" – a mysterious and rare blend of tobacco rumored to have been created for the Sultan himself, imbued with ancient and powerful magic.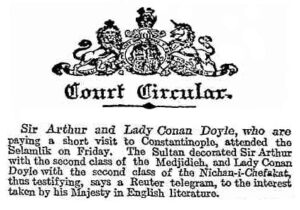 Sir Arthur Conan Doyle had a big fan in the figure of Sultan of the Ottoman Empire. That same Sultan cracked down relentlessly on pipe tobacco as a social ill. However, in the world of fiction we can dream of better worlds. I needed to create my own inspiration for this blend, drawn from random historical trivia, and fused into the familiar.
I thought of a lost Sherlock Holmes story set in Constantinople. Sherlock has been summoned to assist the Sultan with a case involving a cursed object. The Sultan's Shadow (the exclusive pipe blend of Ottoman rulers) is key to the story. The title of that lost novel is "The Oriental Affair." James Watson is left behind in England while Sherlock takes the Sultan's summons. The story switches from the point of view of James Watson at the train station to that of the Sultan's katip (scribe) upon first seeing Sherlock enter the court. The voice changes clearly to that of someone from the Eastern point of view. Sherlock is being viewed through the eyes of an introspective Sufi who is aghast at both Sherlock's Westernisms and his mania. The two eventually come to a middle ground as they find each other in need. A trio of sorcerers has plotted to replace the Sultan's Shadow with a blend that would control his mind (and that of any he gifted it to). This is a supernatural themed Holmes tale I would like to read.
Cheers,
Ken